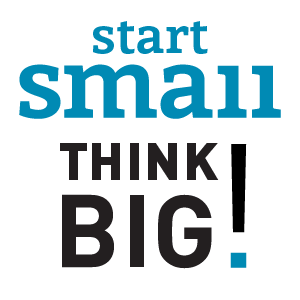 Director of Strategy & Impact
New York, NY
---
Start Small Think Big is a non-profit on a mission to empower and catalyze under-resourced entrepreneurs. Founded 10 years ago in New York City, we are headquartered in New York, with physical offices in Oakland and San Jose, California. We are now in the midst of another period of rapid growth and expansion, as we work to replicate our model nationally and grow existing programs to serve larger numbers of entrepreneurs.
In order to connect under-resourced small business owners with the strongest pro bono legal, financial and marketing support to transform their growing businesses, build wealth for themselves and their families, and create jobs for others in their communities, Start Small has:
●  Partnered with the majority of the top 100 U.S. law firms, including Simpson Thacher, Weil Gotshal, Cleary Gottlieb, Debevoise & Plimpton.
●  Partnered with the biggest and most well-respected financial institutions and corporations, including American Express, Morgan Stanley, Google, and Goldman Sachs.
●  Secured significant support for our work from some of the largest and most forward-thinking foundations in the space, including Kauffman, JPMorgan Chase, Citi.
The Director of Strategy & Impact, reporting directly to the Chief Operating Officer, is a pivotal role inside Start Small Think Big. You will be responsible for helping to shape our strategic initiatives Your work will accelerate impact for our clients, ensure our service models are designed for scale, create an ecosystem with our community partners to support small business pathways through policy and thought leadership initiatives, and contribute to the organization's long term success by collaborating on our strategic development and expansion initiatives. This is an exciting role that directly impacts all parts of our organization during a period of accelerating growth. We are seeking a mission-focused, seasoned, strategic, and systems-oriented leader who can ensure that Start Small's programs are designed to ensure the success of our clients and the long term success of the organization.
Key Focus Areas:
Program Strategy, Impact, and Management
   - How do we innovate to ensure our programs accelerate impact for clients?
   - How do we evolve our service models as we scale out to new locations and offer new services? How do we manage, measure, and understand what is happening across our programs, clients, volunteer, and funders, and partners to drive new initiatives and strategies?
Key Responsibilities:
●  Actively participate in program design and strategic planning with Executive & leadership teams. Work closely with program staff to build measurement andevaluation frameworks and harmonize work across teams.
●  Collaborate with the Leadership team in development & deployment of service models as we scale our work nationally. Identify opportunities to improve the quality and efficiency of our work. Drive development of growth indicators, staffing & resourcing frameworks, and project planning across the organization.
●  Leverage internal and external research & analysis to identify gaps in programming, partnerships, and volunteerism. Generate & incubate new ideas for programming, service delivery, and measurement that create exponential impact opportunities for our clients.
   Strategic Initiatives
   - How do we share our experience & shape the pathways for small business development?
   - How do we effectively build collaborative ecosystems with community partners built on positive outcomes & impact?
Key Responsibilities:
●  In partnership with the Executive Director, COO, and Community Development teams, lead collaboration on strategic relationships with key national, community, research, and funding partners to build an ecosystem around Small Business technical assistance initiatives and development of thought leadership opportunities.
●  Build capacity on our Impact Assessment team to support this work through research, investigation, data collection & analysis to build case studies, white papers, convenings, or other relevant materials.
●  Collaborate with the Executive team to prepare Board reporting for regular meetings. Participate in Committee meetings to bring to light our successes, challenges, and goals, distilling complex data into actionable insights.
● Stay current on critical issues and new opportunities and present guidance to ED/COO and others.
   Development & Strategic Planning
   - How do we develop models, frameworks, and engagement strategies to accelerate our grant making activities?
   - How to create compelling data-driven stories that support our development, communication, and marketing initiatives?
Key Responsibilities
●  Contribute to Start Small Think Big's long-term sustainability through the development of compelling funder reports, proposals, engagement strategies, and identification of new funding opportunities.
●  Develop stories, impact statements, and engagement strategies around program strategy, outcomes, and growth initiatives to support grant making activities.
●  Own the development of growth models & strategic planning indicators in collaboration with COO and Director of Finance.
●  Own all funder reports & proposals, ensure timely review of grant making activities.
   Team Management
   - How to build a world class, data savvy Impact Assessment & Research team who is equipped to deal with identifying our key challenges and opportunities?
Key Responsibilities
●  Direct management of Impact Assessment Manager and other direct reports as team and department grows. Provide ongoing professional development support through weekly meetings, one-on-ones. Advance the skills of this team to take on bigger projects and challenges.
●  Build a data rich culture across our teams. Contribute to team-wide learning and knowledge management and communicate data insights and analysis. Bring insight on "why" and "where do we go from here" into day-to-day work across teams. Ensure all teams are equipped with necessary data and analysis to drive our work forward.
●  Collaborate with technology teams to design data infrastructure, products, or reporting tools that allow the team to respond to needs across the organization.
Knowledge, education, experience:
●  7-10 years of increasing responsibility and innovation in program strategy, strategic planning, and impact assessment. Strong preference for candidates with backgrounds spanning both nonprofit and the public and private sector, and exposure to policy initiatives.
●  Experience with program design, particularly working to scale programs, taking ideas to the next stage of impact and influence.
●  Thrives in both big picture strategy and execution.
●  Demonstrated experience in developing and implementing quantitative and qualitative tools and data collection methods that can inform impact and evaluation frameworks, program strategy, and identify the "why" behind our work and outcomes. Understanding of research methodologies, and human centered design practices.
●  Data driven storyteller who can distill complex data into clear stories and insights and communicate learnings across diverse audiences.
●  Excellent computer skills and experience with Salesforce and BI software (Tableau, etc) strongly preferred.
●  Entrepreneurial acumen and drive, ability to see and respond to opportunities to strengthen and/or course correct program plan to increase impact and drive for policy and systems change.
●  High emotional intelligence, understanding, humility, and ability to develop deep relationships and respect with diverse leaders, organizations that cross sectors, geographies, class, power, and race and ethnicity.
●  Strong writing and editing skills, track record of effective communication that engages audiences from public, private, and nonprofit sectors.
●  Experience with fundraising and program development and design; access to strategic leadership and philanthropic networks strongly preferred.
●  Commitment to equity, diversity and inclusion.
Salary & Benefits:
●  $80,000-$85,000 annual salary
●  Generous PTO package (25 days) and all federal holidays. Sick time separate from PTO.
Competitive health insurance package, 401k with match, and access to various other benefits including pre-tax commuter plan, paid parental leave, tuition reimbursement, life insurance, dental and vision insurance, among others.
Location
This role will work out of our NYC office.
During the duration of the current pandemic the role will remain virtual.
To be considered for this position, please complete the form below: