Director, Data Platform Engineering
---
About the Company
We are revolutionizing the Managed Security Services industry by building a unified, AI-driven security platform that will give users better protection, faster, and with more precision, at a fraction of the cost of traditional approaches. At ActZero, our mission is simple: Stop cyber threats, protect the world.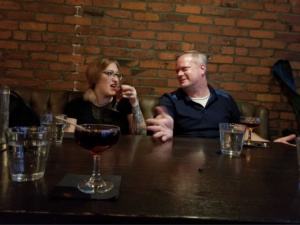 As the hands-on leader of the Data Platform Engineering team at ActZero reporting to our Vice President of Engineering, your job is to build a scalable platform to integrate, sanitize, store and productize our massive store of customer security data. Your platform will handle well over tens-of-billions of events per day. You will partner with our Data Science and Security Engineering teams and use this data to intelligently identify, detect and respond to known and future security threats events. To help, you will recruit and retain a world-class team of highly-skilled engineers. Your team and platform will keep our customers more secure than ever before, while minimizing the cost of doing so.
Responsibilities
Develop, construct, test and deliver all aspects of ActZero's near real time data processing pipeline

Hire, develop, and motivate a team of 5-10 data and ML engineers

Build robust and scalable data and ML services, and deploy them in the cloud

Discover and invent new opportunities for data acquisition

Develop data set processes for data modeling, mining and production

Employ a variety of languages and tools to integrate our customer's systems to our pipeline

Improve data reliability, efficiency and quality
Skills and Qualifications
A proven track record of success building AWS-based, highly-automated, near real time data processing platforms

A deep understanding of programming with Python, Ruby or Go

Experience with both SQL and NoSQL databases

Experience with data management platforms such as Hadoop, Spark, Kafka, etc

Experience in many aspects of software development, including technical expertise, project management, and team development

An innovative and passionate spirit, an ability to overcome technical issues in a cooperative environment, a commitment to ship quickly, and familiarity with agile software development practices

Solid knowledge of Computer Science fundamentals (object-oriented design, data structures and algorithm design, problem solving, and complexity analysis)

The ability to deal with ambiguity, communicate well with partner teams, and a compassionate understanding of the customer experience
About ActZero
ActZero is building the most effective, hyperscale AI-powered MSSP. We foster a culture centered upon our customers and rooted in mutual trust and committed to execution, where we continuously learn and improve, like the AI systems we develop. Founded in 2019, ActZero is backed by Point72 Ventures, a global venture capital firm led by a diverse set of domain experts with the capital to lead rounds through all stages of company growth.
ActZero celebrates diversity and is committed to creating an inclusive workplace. We are an Equal Opportunity Employer and consider, develop and retain candidates without regards to race, color, national origin, sex, age, religion, sexual orientation, gender identity, veteran status, marital status, physical or mental disability, or other protected classes under all local, state, and federal laws and ordinances.